The position of the main pivot point has changed significantly.
It allows more dynamism, better pedalling efficiency and a reduction of kickback
(loss of chain tension on the pedals).

On long enduro races, saving the rider's energy
is always welcome, even for our super fit EWS riders.

We've never specifically tried to make the stiffest bikes on the market.
In fact, we feel it's more important to have the right balance between precision,
tolerance, dynamism and grip.

However, with the introduction of bigger wheels,
we thought it was important to stiffen the frame to keep that balance.

Bigger wheels means more leverage onto the frame and 29'' wheels tend to flex more than 27.5.

The new seat stay shape and its new bridge provide more torsional stiffness.
The rocker has larger bearings for more reliability and more rigidity.

Its shape contributes to the overall stiffness of the chassis.

---
| | S | M | L | XL |
| --- | --- | --- | --- | --- |
| Seat Tube Length | 400 mm | 440 mm | 465 mm | 495 mm |
| Seat Tube Angle | 76.5° | 76.5° | 76.5° | 76.5° |
| Head Tube Angle | 65.5° | 65.5° | 65.5° | 66° |
| Head Tube Length | 105 mm | 110 mm | 115 mm | 120 mm |
| Wheel Base | 1173 mm | 1197 mm | 1222 mm | 1257 mm |
| Top Tube Length | 563 mm | 586 mm | 619 mm | 644 mm |
| Chainstay Length | 432 mm | 432 mm | 432 mm | 432 mm |
| BB Height | -25 mm | -25 mm | -25 mm | -25 mm |
| Fork Length | 571 mm | 571 mm | 571 mm | 571 mm |
| Reach | 413 mm | 435 mm | 460 mm | 491 mm |
---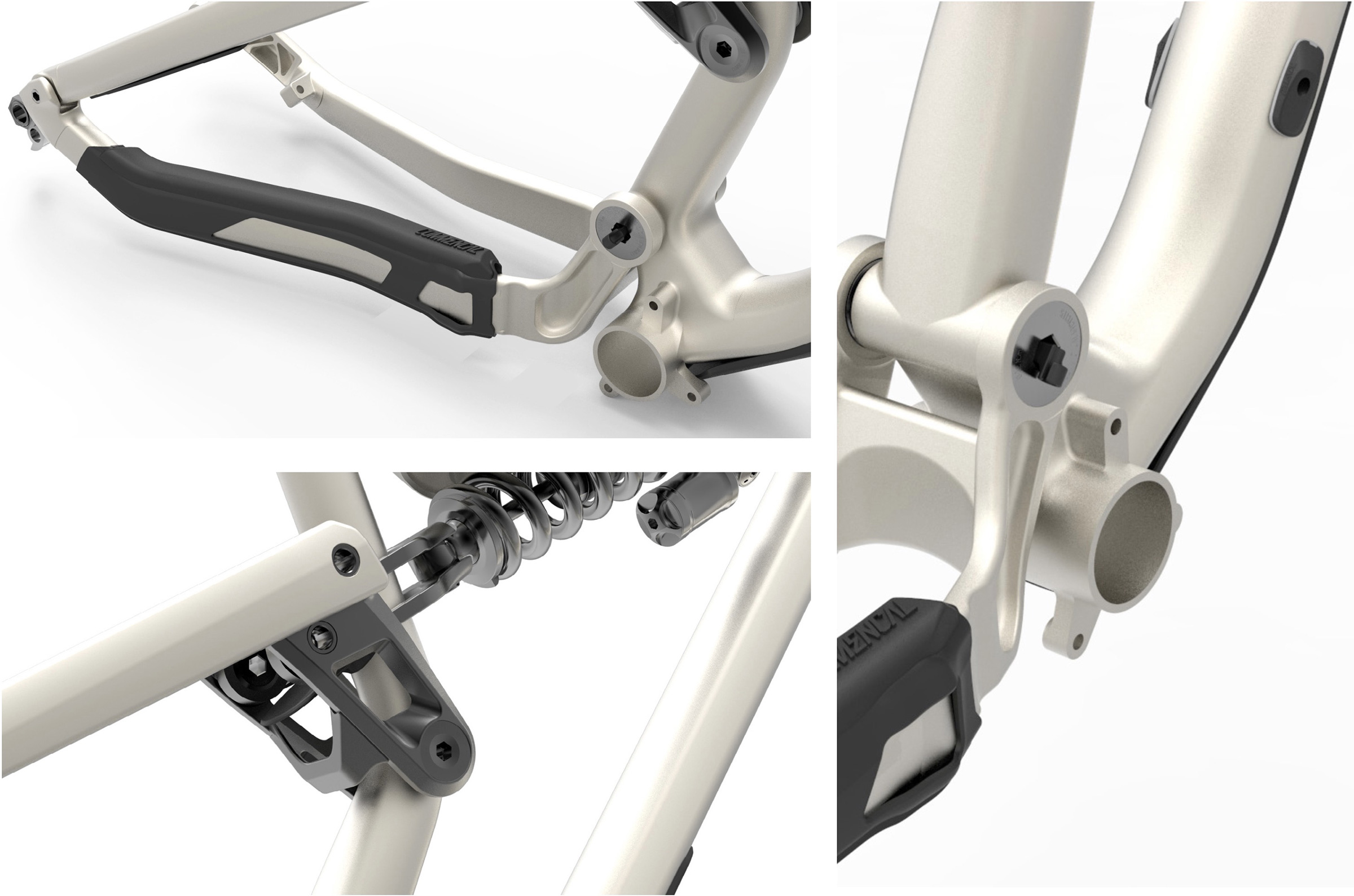 ---
Fork
ROCKSHOX Lyrik rc2, 170mm, 15mm axle, High / Low speed compression, rebound, boost
Shock
ROCKSHOX Super DeLuxe rct Coil, 230x60mm, 2 positions, compression, rebound
Brakes
SRAM Guide re, 200mm/200mm
Transmission
SRAM GX eagle 1x12sp
Wheels
SPANK OOZY 350 Wheelset, 32 holes, 30mm inner width
Seatpost
KS Lev integra, 31.6 mm, Southpaw alloy lever
Price
3 899€
See the Bike
---
Fork
FOX 36 Factory, 170mm, 15mm axle, high / low speed compression, high / low speed rebound, boost
Shock
FOX DHX2 Factory, 230x65mm, 2 positions, High / Low speed compression & rebound
Brakes
SHIMANO Xt, 4 pistons front /,2 pistons rear, 200mm/200mm
Transmission
SRAM GX eagle 1x12sp
Wheels
E13 TRS wheelset, 28 holes, tubeless ready, 30mm inner width
Seatpost
KS Lev integra, 31.6 mm, Southpaw alloy lever
Price
4 399€
See the Bike
---
Fork
ROCKSHOX Lyrik RC, 170mm, 15mm axle, compression, rebound, boost
Shock
ROCKSHOX Super Deluxe rct, 230x60mm, 2 positions, compression, rebound
Brakes
SRAM Guide t, 200mm/200mm
Transmission
SRAM GX eagle 1x12sp
Seatpost
KS e20i, 31.6 mm, Southpaw alloy lever
Price
2 999€
See the Bike